The legacy of the Ranch is a powerful story of courage, love, and understanding. It is here that our Founders turned a united vision into a reality for troubled youth. Our history demonstrates how one unique program can change thousands of lives.
Franklin and Merle Robbie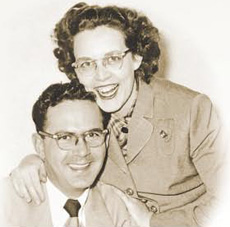 Franklin Robbie founded Yellowstone Boys Ranch in 1956, following several years as a pastor and regional director for Youth for Christ. When he visited the Montana State Industrial School and saw young, juvenile delinquent boys housed with older criminals, he determined an option needed to be created. In June of 1957, the first boy was welcomed at Yellowstone Boys Ranch.
Merle was the glue that helped people work together toward a common goal in the early years. She became a respected mentor to wives of staff and board members. Merle was diagnosed with cancer in 1988 and passed away later that year.
In the fall of 2006, a book written by Franklin, A Legacy of Caring – The First Fifty Years at Yellowstone Boys and Girls Ranch, was published to kick off the 50th anniversary celebration. Franklin passed away March 21, 2014, at the age of 96. His heart was as full of hope for the children who are cared for by the staff at Yellowstone.
Bob and Doris McFarlane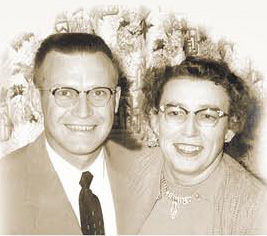 Bob had worked at the Wyoming Industrial Institute of Boys for five years when he was asked to be Yellowstone's first superintendent. Bob and Doris McFarlane brought their family to Billings in 1957 and eventually lived on the campus. Being superintendent included running the farming operations, planting and cultivating harvest, repairing machinery, and managing the staff.
Besides being mother and homemaker to her children, Glenn and Gloria, Mrs. McFarlane did all the cooking for 14 people at each meal. She also kept check on all incoming clothing and issued clothing to all the boys. Then she wrote numerous thank you notes for every contribution.
Doris suffered with a respiratory disease for many years and passed away in 1988. Bob passed away on August 18, 2013 after completing his earthly chores.
Carl and Betty Orth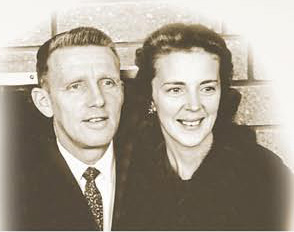 Carl and Betty Orth moved from Texas in 1957 with their four boys to become the assistant superintendent at Yellowstone. Carl left Cal Farley's Boys Ranch, where he was the superintendent. He joined Yellowstone's staff, where his workload included being the carpenter, plumber, electrician, and sports coach.
Betty remembers ironing thousands of shirts and mending dozens of pairs of jeans and socks. Betty shared in the duties of running the kitchen and dining room and she shared the vision and passion for Yellowstone Boys Ranch.
A rare form of skin cancer claimed Carl's life in 1963 at the age of 41. Betty is an active supporter and can still be seen at special events held for Yellowstone Boys and Girls Ranch.
View some Photography from Our History