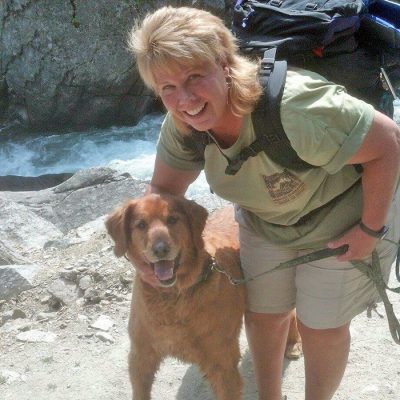 As told by Lisa Frazier, Therapeutic Recreation Supervisor
In 1982, fresh out of college, I began working at Yellowstone. I spent the majority of my time with kids in the Uihlein Recreation Center, taking them on biking, camping, and sledding adventures. My mentor, Bob McFarlane, one of the three founders of Yellowstone, taught me how to establish relationships through hard work and play. Of course, we never know how our actions and words will impact young people. But we hope that our advice will stay with them throughout life. That's what happened with Adam Garrigues.
I met Adam in 1983 when he arrived at Yellowstone at 15 years old. By that time, he had plenty of run-ins with the law. He ran away from home, skipped school, smoked, drank, and did drugs. He also ran away from the Casper Children's Home at age 13. Later, he stole a car and robbed houses, landing him in the Wyoming Mental Hospital and the Wyoming Industrial Institute for Boys.
When he came upon his fourth felony in three years, he knew his next stop was Yellowstone… or prison.
"The judge told me flat out, 'This is your last chance,'" Adam said.
Adam lived at the Ranch for more than three years, and he was actively involved. He played on the Mustangs basketball team and won Defensive Player of the Year. Later, Adam told me he behaved well so he could participate in recreational programming.
"It kept me focused to do what was being asked of me or I might miss the big game that night," he said.
Adam was eager to assist staff, as well. I remember when he helped me take a group of young kids on a camping trip.
"I was the pack mule," Adam said. "After day four, my legs went numb, but I kept going. Now that builds character."
Other aspects of his Ranch experience were impactful, as well. Adam remembers a staff mentor, Jerry, asking him to look up the word, "empathy", and use it in a sentence. That assignment stayed with him.
"Later in life, it was just that little voice in the back of my head: 'Be nice to people. You don't know where they came from and they don't know where you came from.' When I would do something I knew I shouldn't be doing, I heard a staff member or counselor saying, 'You might not want to make this choice.'"
Adam wanted to have a chance to be one of those voices for kids currently in treatment at Yellowstone.
In 2015, he began coaching our youth in bowling. He teaches bowling basics, etiquette, and respect for equipment. But he gives advice about more than just bowling.
"This is not a game," he has told them. "You have to make good decisions."
The conversations they have about the future bring him back to his past.
"You can talk to them and you see yourself back in those days. It's been an emotional rollercoaster since I've been coming back here, to be honest," he said.
Now 48, Adam works as a welder for WBI Energy. He and his wife also started a food truck and catering business. He runs a youth bowling league in Billings and enjoys spending time with his wife, three children, and six grandchildren. But even as he enjoys his successful adult life, the Ranch continues to be a part of him.
"The voices of YBGR are still with you," he said.
And now, his voice is with the kids of Yellowstone.