Music therapy changing lives in Dillon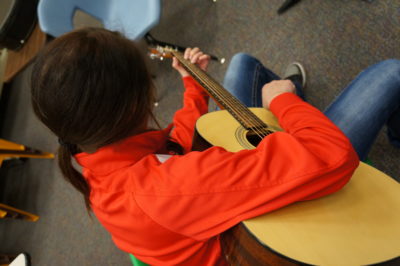 Posted: Oct 17, 2017 7:45 PM MDT Updated: Oct 18, 2017 7:55 AM MDT
DILLON – "Go! Go, Bobby. Play, play, play your instrument, play, play, play," Bethany Venekamp, Musical Therapist, sings to her class.
Music is more than just fun. At Parkview Elementary, Bethany says music has scientific qualities that are good for therapy.
"Music is organized, it's structured, it's predictable and that quality of music makes it a really special medium to work and train or reteach the brain," Venekamp said.
For a year now, Bethany has been working with special needs students using musical therapy that includes drumming and singing songs.
"I try to pick songs that they know, we call it piggybacking, so we maybe take the chorus and the melody, but we adjust some of the lines to what we're going to work on," Venekamp said.
"We love it," said Special Ed Teacher Beth Pavalis. "When she first came in I asked if she could come every day, it's just the beautiful little time in our week that we all look forward to."
Most people use musical instruments for entertainment, but Bethany used them for learning. She can get the students to follow along and stop, or use a rattle to help them learn rhythm and this is all done so they can develop social skills.
"These kids are learning to follow direction because they need to know that skill in class and in life and so just working on stop, start, play up high, play down low, just simple directives that I'm giving them," Venekamp said.
Teachers say this therapy has made a difference for the nine special needs students at the school.
"The kids really tune in and engage and follow directions a lot better and more effectively when music is involved," Pavalis said.
Venekamp added: "So our sessions when we started were like 15, 20 minutes for some of the kids and then they would live or disengage, so the fact that we can have a session that's almost 40 minutes with independent engagement without needing assistance from their other teachers is huge."
http://www.kxlf.com/story/36621336/music-therapy-changing-lives-in-dillon#.WejNkDXOMjs.facebook