Swing Kidz dance to prevent suicide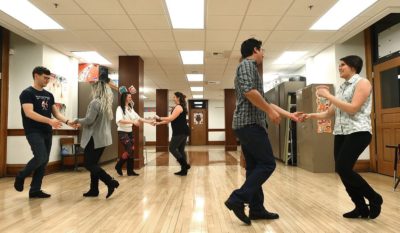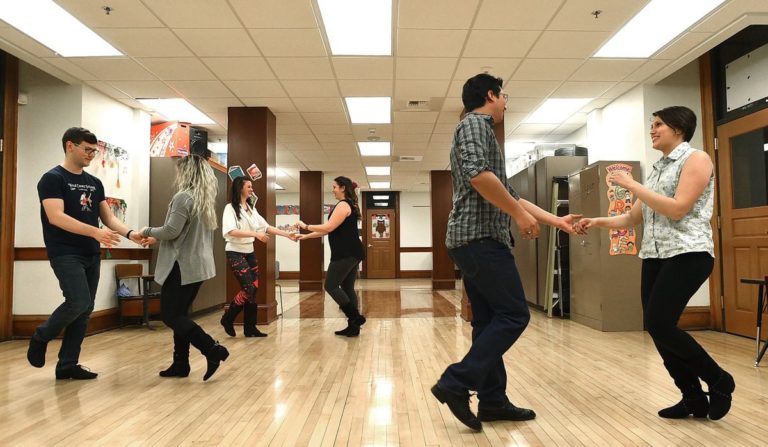 Swing Kidz dance group performers rehearse at Broadwater Elementary on Monday.
Larry Mayer Gazette Staff
Billings Gazette 11/29/17 by Jaci Webb
They call themselves the Swing Kidz, a name that fits their dance style and personalities.
The Billings dance company primarily performs West Coast Swing, but they also like to throw in some hip hop and modern interpretative dance styles. They are such a tight-knit bunch that they call their dance instructors Mom and Dad, even though Patricia Lambert and her husband Jarrett Lambert are in their mid-20s.
The family atmosphere at dance practice helps boost spirits when a member is having a bad day. That spirit of caring helped them come up with the theme of suicide prevention and depression awareness for their upcoming dance performance, Swing Kidz Extravaganza.
The performance will be held on Saturday, Dec. 9, at 6 p.m. at the First Congregational Church, 310 N. 27th St. Proceeds from the auction and raffle will go to the Yellowstone Boys and Girls Ranch and a representative from the facility, which helps youths struggling with emotional issues, will speak during the event. Tickets are $15.
It begins with a swing dance lesson and finishes with a dance party after the performance. Patricia Lambert said dance makes a difference in kids' lives and she can attest to that because she was once that shy kid.
"I went from not being able to speak in public to starting my own business. Dance did that for me," Lambert said.
Swing Kidz is open to youths between age 6 and 24. The program currently has six students from age 6 to 18. The youngest member is 6-year-old Gabi Spatzier, who has been dancing since she was 2.
Gabi's mother, Sam, said dance helps Gabi cope with her anxiety.
"I've never seen her more excited than she was the first day she started dancing with this group," Sam Spatzier said.
Beverly-Ruth Laci, an 18-year-old music education major at Montana State University Billings, has been in the group since August. Laci thought raising money to help the Yellowstone Boys and Girls Ranch was an excellent idea.
"The message I want to get across is, 'It's OK to get help,' " Laci said.
Laci said she struggled with depression and anxiety because she was reluctant to reach out for help. She doesn't want others to suffer.
An Oregon dance instructor that Lambert and two of her students worked with committed suicide earlier this year. That was a wake-up call for them.
"All of the kids have either experienced depression or someone they know has," Lambert said.
As she worked with students at rehearsal Monday night, Lambert kept things lively. The music was loud and the pace was steady. Girls dance with other girls since there is only one male member of Swing Kidz.
Alex Hunnes, a 17-year-old Senior High student, said even though he's the only boy in the group, the other members are some of his closest friends.
"It's like a family. If anyone in the group is having a problem, we're always there for each other. Today, Beverly got a flat tire and everyone in the group was wondering how we could help."
Hunnes discovered dance two years ago when he was at a fiddle camp. He started watching YouTube videos and then saw the Lamberts perform during a John Roberts Y Pan Blanco concert featuring Latin music at St. John's Lutheran Home.
Earlier this year, Hunnes competed in a swing dance competition in Boston, making finals in the Jack and Jill division, which has dancers rotate partners.
Hunnes believes dance helps relieve stress, which is important to people in his age group.