Yellowstone's Youth Deliver Easter Meals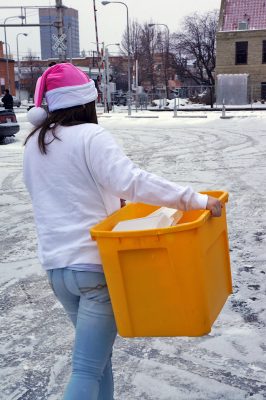 About 15 youth from Yellowstone Boys and Girls Ranch are delivering meals to those in need on Easter Sunday as a part of the Montana Rescue Mission's meal delivery program.
"We try to get the kids out there to see that there are people less fortunate than they are and give back to the community," said John O'Dea, a mental health worker at YBGR. "Oftentimes, the kids are a little humbled and happy that they could help somebody."
O'Dea has made it possible for YBGR youth to deliver Thanksgiving, Christmas, and Easter meals for close to 10 years. The youth involved are between the ages of 12 and 17.
"We enjoy having the young people of Yellowstone get involved with our program," said Denise Smith, the public relations manager at Montana Rescue Mission. "With the help of volunteers, we are able to provide a happier Easter to folks in need throughout Billings."
The Montana Rescue Mission was organized in 1955 for the poor and homeless in Billings and throughout the greater Yellowstone County area. The MRM provides emergency, temporary care, and rehabilitative services to those seeking help and solutions. Learn more at http://montanarescuemission.org/.