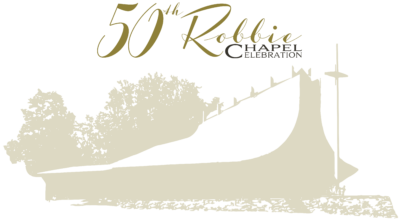 In celebration of the Franklin and Merle Robbie Chapel's 50th year, a commemorative service will be held in the Chapel on the YBGR campus Sunday, September 12, 2021 at 9:30 AM, followed by a rededication of the Stephen Paul Healing Plaza.
The Spiritual Life Program has been an integral part of the YBGR experience since the Ranch opened in 1957. Christian based in focus, the Ranch SLP's strives to provide support and guidance to youth of all religions or beliefs.
Who better to explain the importance of weaving Spiritual Life into the very fabric of the Ranch than the Founder, Franklin Robbie? In the October 1962 issue of the Wrangler, Franklin wrote:
"In accepting a boy from a juvenile court, there is nothing in the court order outlining the necessity or importance of religious training, but it becomes part of our moral responsibility to strive to meet all the needs of each boy given into our care. That includes more than providing food, clothing, shelter, education, and recreation. It embraces trying hard to take the place of parents in defining and teaching moral and spiritual values as well. We are keenly aware that 'man doth not live by bread alone but by every word which proceedeth out of the mouth of God,' (Matthew 4:4) and we have many encouraging evidences of the value of the religious emphasis included in our daily program at Yellowstone Boys Ranch."
Much has changed since 1962 (most notably girls being accepted at the Ranch starting in the early 1980's), but the importance of spiritual wellbeing as an integral part of treatment is more relevant today than ever before. For more information on the celebration, contact Kristi at 406.656.8772 or kristi@yellowstonefoundation.org.