"I love the fresh smell of NOS and burning rubber. You can feel the heat coming from the cars from 100 feet."
Seventeen-year-old Evan Petersen, a junior at Broadview High School, considers himself a gear head. He loves getting greasy with cars, and he doesn't mind the grease while working the grill at the Yellowstone Drag Strip near Acton, Mont.
"The best part is just getting to see the cars go down the track," he said.
Evan has worked at the drag strip's concession stand since June 2015. He earns $8.25 an hour by grilling burgers, brats, and hot dogs.
"I think he'd work there for free," said Evan's mom, Linda Lacy.
Some weekends, he works 12- and 13-hour shifts.
"It's tiring, but when you have two people, one of you can take a break and you can switch back and forth," he said.
Evan lives with his mom in Acton. He said he considers his family's needs when choosing how to spend his paychecks.
"Before I bought anything else, I bought the clutch for her (car)," Evan said.
$140 later, he installed the new clutch in his mom's car. But now, he is saving up to buy a $400-horse from a family friend.
"I love to ride," Evan said.
Evan's home in Acton is located off of U.S. Highway 3, with Broadview and Billings 15 miles away on either side. Living in a rural community made finding the right job a challenge for Evan. That's when Yellowstone Boys and Girls Ranch employment specialists stepped in to help.
"There are only two places to work here in Acton, besides working for a farmer," said Robert Kuhr, the supervisor of YBGR's Individual Placement and Support Employment Program. "We needed to find a place that met Evan's interests and was situated close to his home. The Yellowstone Drag Strip is just the right fit."
Evan said having YBGR's help in finding a job close to home was important.
"It made me have some sort of relief," Evan said. "It probably would have been much harder for me to find a job."
The Yellowstone Boys and Girls Ranch Individual Placement and Supported Employment program has helped 22 people between the ages of 15 and 24 secure employment since June 2014. The program strives to help people with mental health issues work in competitive jobs related to their employment preferences.
"Through YBGR and this job, he's learned his self-worth," Evan's mom said. "His confidence has grown hugely."
"I've learned to work with people and try to keep calm and work at a pace," Evan said.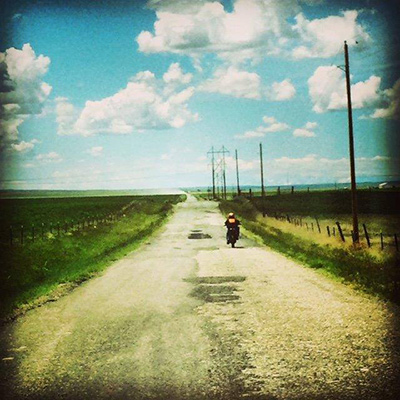 With money to be made and a promotion already under his belt, Evan continues to trek the 3.5 miles to the drag strip on his dirt bike. But with the last event of the season drawing near, Evan is on the lookout for another employment opportunity… and YBGR will be there to help.
"It's a wonderful project," his mom said. "I would encourage any parent to reach out to YBGR."
This program is funded by a grant through the Department of Public Health and Human Services Addictive and Mental Health Disorder Division and Montana Medicaid.
In the News
Read about Evan Petersen in the Billings Gazette.
Read about the Individual Placement and Support Employment Program team in the Billings Gazette.